COVID-19 BUSINESS CONTINUITY ADVISORY: Due to enhanced social distancing measures, TSMP lawyers are working offsite. Please click
here
for their contact details.
X
NOTICE ON SCAM WEBSITES/EMAILS
It has come to our attention that scammers have been targeting our clients and business partners. Please disregard websites that claim our lawyers are working for them. And if you have received an email from someone purportedly representing TSMP Law Corporation, from an address that does not end with @tsmplaw.com or @tsmp.com.sg, kindly do not respond or click on any attachments. Please forward the email as an attachment, containing all the headers, to webmaster@tsmplaw.com so that we can take follow up action. After which, please delete the email. We are sorry for the inconvenience. Thank you for your patience.
CLOSE
We hail our healthcare heroes with personal care packs for front-liners battling Covid-19 at SGH
TSMP volunteers brave the rain to unload the care pack products from the lorry.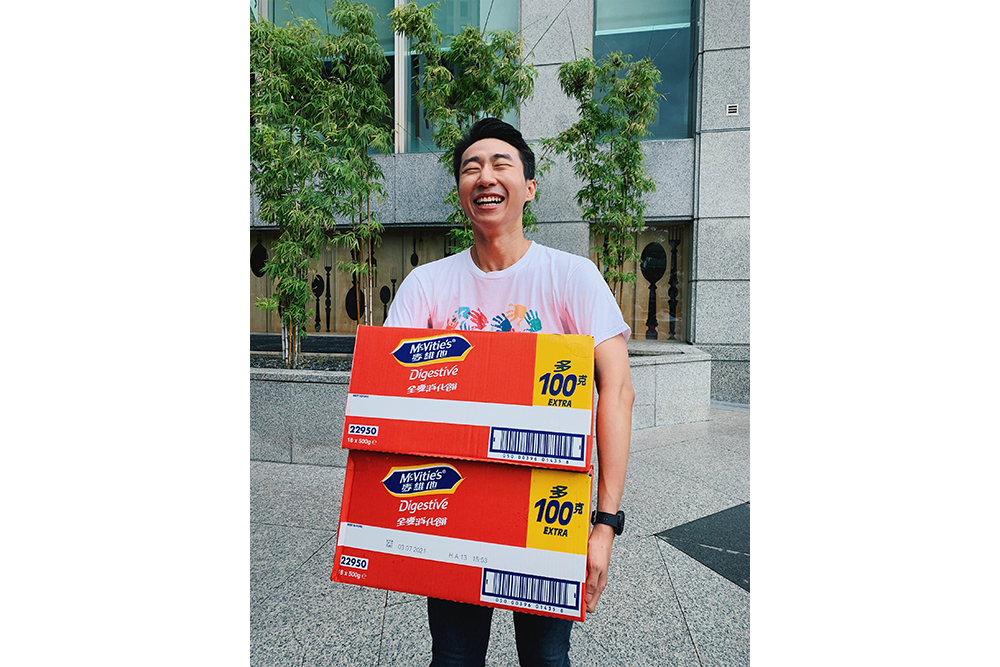 Heart of gold and arms of steel...
Packing the care pack in the boardroom
Pipagao anyone?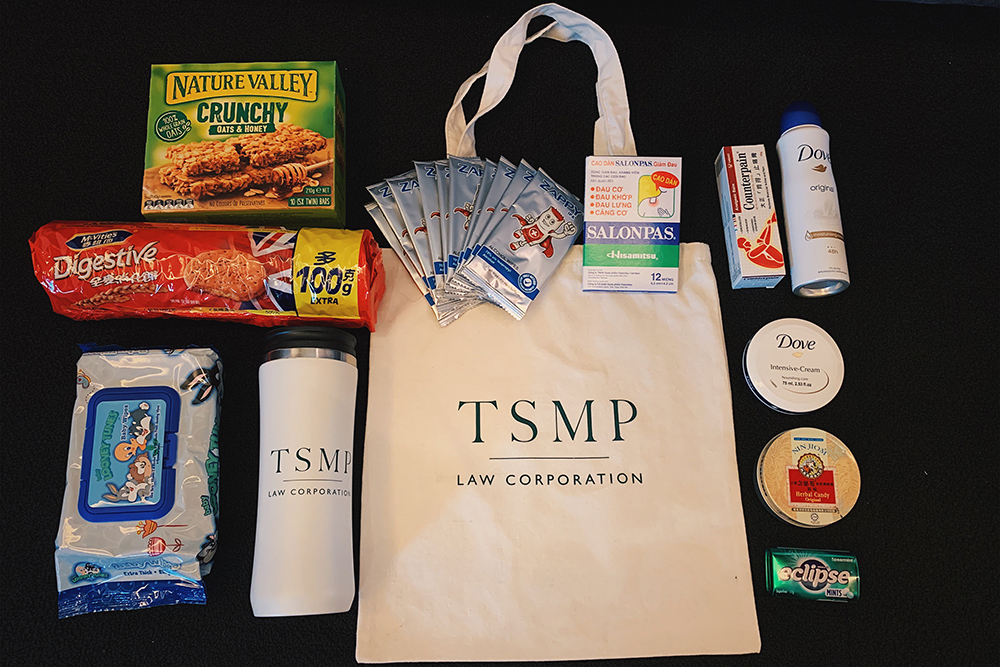 The care pack contains a thermal tumbler, antiseptic wipes, baby wipes, deodorant, hand moisturiser, medicated pain plasters, analgesic balm, a muesli bar, biscuits, mints and lozenges.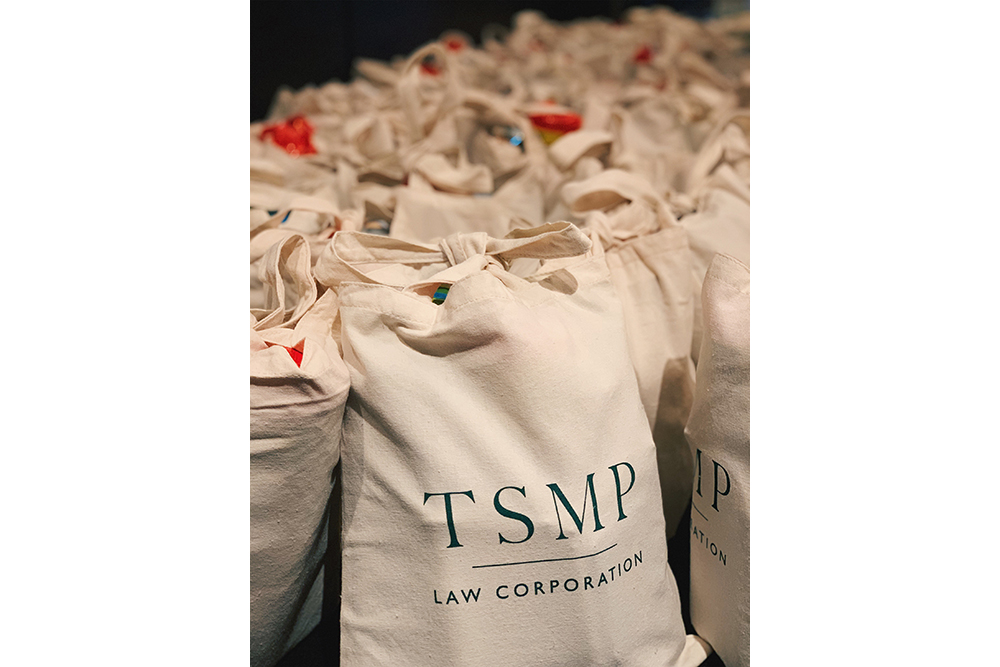 Completed care packs ready for delivery!
D-Day! Unloading the care packs at SGH.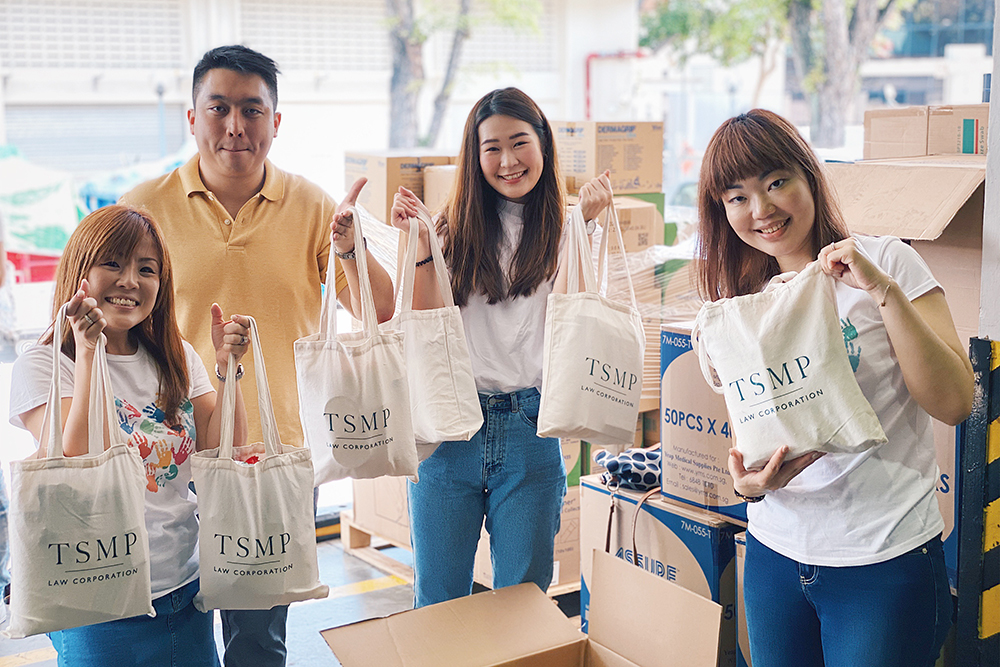 Care packs ready for delivery.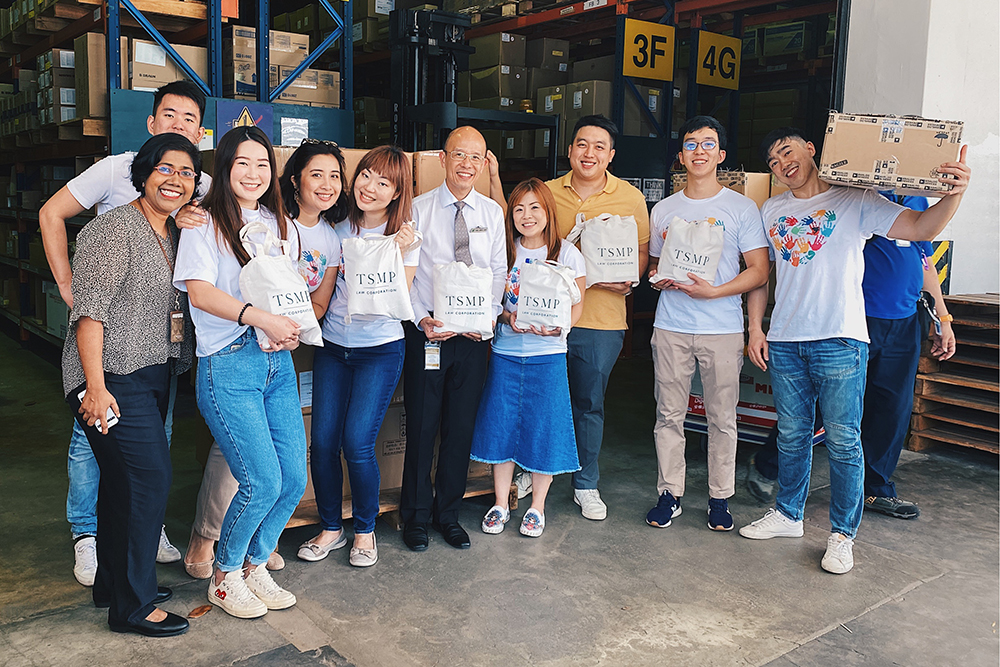 SGH reps receiving the care packs on behalf of the nurses and other front-line staff.
NEXT article
A hungry ambulance driver was turned away from a hawker stall. A teenage nurse was told off by a couple for taking the lift with them instead of the stairs. Others were given wide berth on the MRT, with some being asked to leave the train.
In early February 2020, such heart-breaking reports had spread on social media, sharing how healthcare workers were being shunned by members of the public who fear that they might catch the Covid-19 virus.
But instead of being ostracised, these healthcare heroes deserve deep appreciation for the great personal risk in which they had put themselves through their tireless work to keep the nation healthy.
This is why TSMP Law Corporation has decided to send Singapore General Hospital frontline workers individual thank-you gifts for this year's first Handprint initiative.
Within a week, TSMP sponsored and packed the items into a reusable bag as a personal care pack to be distributed to these healthcare heroes. The products include a thermal tumbler, antiseptic wipes, baby wipes, deodorant, hand moisturiser, medicated pain plasters, analgesic balm, a muesli bar, biscuits, mints and lozenges.
Our volunteers packed 1,000 of these bags by hand, which were delivered to the Singapore General Hospital on 27 February 2020.
Said June Ho, TSMP's head of community services: "With DORSCON Orange in place, we decided to move away from our usual in-person community outreach events, and instead focused on meeting the needs of our frontline medical staff in the best way we can. So we thought, why not centre our Handprint activity on preparing care packages for our healthcare heroes? And so the race was on to source hand lotions and medicated plasters to ease their load."                 
Changing the national conversation
The donation is part of a larger initiative to Hail Our Healthcare Heroes, a project spearheaded by TSMP Law Corporation Joint Managing Partner Stefanie Yuen Thio. She had, in both her personal and professional capacities:
With small-startup-with-a-big-heart The Golden Duck, co-sponsored and delivered 2,000 packets of halal snacks each to SGH and Tan Tock Seng Hospital. It is a tangible gesture of admiration for the nurses, cleaners and administrators.
Organised bento lunch runs for SGH staff. Not only are the healthcare professionals over-stretched, with little time for a lunch break, but once they are gowned up they can't leave and return to the wards without having to decontaminate. Her call to action on social media resulted in a tsunami of support from fellow professionals, old friends and people who are barely connected. They pledged sponsorship for 100 catered lunches to be sent every weekday to the hospital to boost morale.
Provided the seed donation for the Sayang Sayang Fund, a Community Foundation of Singapore Impact Fund set up to support those impacted by the epidemic. With a target of S$500,000, half will be allocated to buying S$5 taxi vouchers for tired hospital staff so that they get home comfortably. Comfort DelGro had supported the initiative with no hesitation.
And this is only in TSMP's small corner of the universe. The past two weeks has seen an outpouring of support from Singaporeans, whether individuals or corporates, and even from foreigners based here.
The initiative to provide meals to hospital staff has also been adopted by large Singapore real estate companies, who are working with their F&B tenants to sponsor 200 meals daily to Tan Tock Seng Hospital and the National Centre for Infectious Diseases.
Said Stefanie Yuen Thio: "Bad news always travels faster, so anecdotes about poor behaviour will always command more attention. But the overwhelming generosity shown by Singaporeans and foreigners working on our shores, who were just looking for opportunities to help the community they call home, is the kind of collaborative spirit that gels us as a nation."
you are reading:
We hail our healthcare heroes with personal care packs for front-liners battling Covid-19 at SGH
STAY AHEAD WITH FOREFRONT: BY TSMP