COVID-19 BUSINESS CONTINUITY ADVISORY: Due to enhanced social distancing measures, TSMP lawyers are working offsite. Please click
here
for their contact details.
X
NOTICE ON SCAM WEBSITES/EMAILS
It has come to our attention that scammers have been targeting our clients and business partners. Please disregard websites that claim our lawyers are working for them. And if you have received an email from someone purportedly representing TSMP Law Corporation, from an address that does not end with @tsmplaw.com or @tsmp.com.sg, kindly do not respond or click on any attachments. Please forward the email as an attachment, containing all the headers, to webmaster@tsmplaw.com so that we can take follow up action. After which, please delete the email. We are sorry for the inconvenience. Thank you for your patience.
CLOSE
Revisiting the elderly at Tembusu Senior Activity Centre to help the elderly tackle tough twilight-year and end-of-life issues
Laughter, fun and games filled the Tembusu Senior Activity Centre last Friday as TSMP staff and lawyers gathered for Handprint, their annual corporate social responsibility outreach.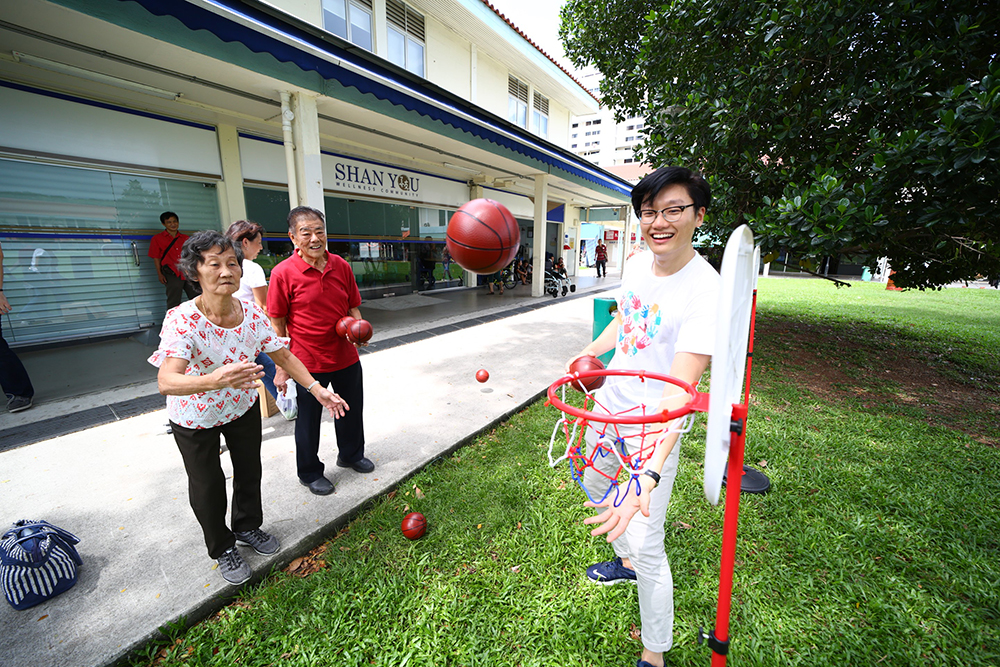 This auntie's still got the moves - senior from the Tembusu Senior Activity Centre shows TSMP lawyer Ko Yuen Hyung how a swish is done in a game of mini basketball.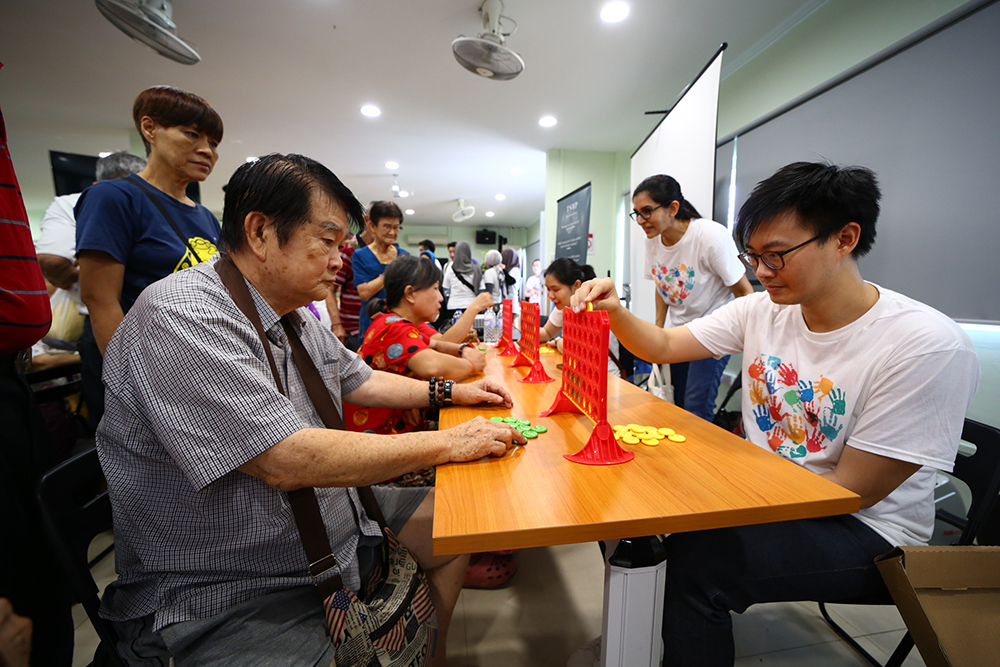 Maintaining mental dexterity - TSMP lawyers played a challenging game of Connect4 with seniors at the Tembusu Senior Activity Centre.
NEXT article
Lasting Power of Attorney. Advanced Medical Directives. Wills. Maintenance of Parents. IOUs and other personal loans. These are tricky topics that TSMP Law Corporation covered with more than 45 seniors at the Tembusu Senior Activity Centre (TSAC) on 29 November 2019.
Southeast Asia's and Singapore's top boutique law firm organised a party and seminar to help the beneficiaries, comprising elderly residents living in the Eunos HDB estate, navigate twilight-year and end-of-life issues in a safe setting where they could ask TSMP lawyers on available arrangements to suit their individual circumstances and needs. TSMP previously conducted similar knowledge-enriching events for these beneficiaries.
The current event is the latest in a series of activities (see "About TSMP's end-of-life issues programme" below) targeted at reaching out to the elderly, one of the three groups of beneficiaries TSMP focuses on for its social outreach efforts.
The seminar was tweaked to meet the needs of TSAC, riding on the success of a similar one conducted in July, when TSMP partnered the Cassia Resettlement Team to engage with 120 seniors at 52 Cassia Crescent, the majority of whom were relocated from rental housing in Dakota Crescent and Sims Drive. The President of Singapore, Her Excellency Madam Halimah Yacob, highlighted the Cassia initiative as an example of "how organisations can contribute to the National Volunteer and Philanthropy Centre's new strategic vision of building a City of Good" in a 15 October 2019 speech.
The day at TSAC kicked off with a bento-box lunch with a laksa live station and dessert buffet. TSMP also curated game booths that encouraged mental dexterity and physical activity among the seniors. These include Jenga, Matcheroo, Connect4, mini-basketball and ring toss.
This was followed by an end-of-life issues awareness talk. To bring the topic to life, TSMP staff performed a comedic skit in English, Malay and Mandarin. After which, over 80 TSMP lawyers and staff conducted breakout sessions with the residents where they could clarify any doubts they may have.
The beneficiaries also received a customised goody bag at the end of the event, which consists of a variety of fresh fruits in a reusable cooler bag to encourage sustainability; healthy biscuits; osteoporosis-preventive milk; a vacuum tiffin that can be used to tapao food; and compression socks for general well-being.
Said June Ho, TSMP's head of community services: "TSMP worked with Tembusu Senior Activity Centre twice last year on a scam-prevention-and-awareness workshop and on a digital clinic outing at a mall. Our volunteers empowered the elderly residents with the skills to protect themselves in, as well as confidently navigate, an increasingly digital world. We believe in forming lasting relationships with our beneficiaries who, in this case, are pioneers who helped build Singapore into the success it is today."
About TSMP's end-of-life issues programme
It is said that an unconsidered life is one that is not worth living. However, far too few people put precious thought into what happens in their twilight years and after they have passed on.
End-of-life issues are sometimes considered taboo, particularly in Asian culture. But the lack of awareness and planning tend to result in anxiety, tension and unhappiness for the persons in question and their loved ones – having someone they distrust take charge of their affairs after they have lost their mental faculties; their doctors not having their instructions on what to do in the event they become terminally ill and unconscious; and having their families quarrel over the division of their assets.
According to estimates, more than 10,000 Singaporeans are expected to require end-of-life care by 2020, and the elderly will make up almost half of Singapore's population by 2050. As a corporate citizen, TSMP Law Corporation (TSMP) believes in doing its part to tackle issues of the day, it being evident that ageing population and end-of-life care are issues that are not going away.
Poll of Residents
During the event, TSMP polled the seniors on three questions:
Did you know what an Advanced Medical Directive was before this talk? Only about 32% of the seniors who responded knew what it was about prior to the event.
Did you know the procedures to go about getting a Lasting Power of Attorney before this talk? 52% of the seniors who responded did not know what it was about prior to the event.
Do you find it difficult to talk about these topics? About 64% of the seniors who responded did not find it difficult to talk about these topics. TSMP found this encouraging as it means that more elderly are prepared to take ownership of such aging issues and have discussions with their family on the same. They also appreciated being able to learn more about these topics in an informal small group setting with friendly lawyers whom they could open up to.
The seniors also shared in general their concerns about rising costs of healthcare; family disagreements and isolation issues; and the lack of caregiver options.
you are reading:
Revisiting the elderly at Tembusu Senior Activity Centre to help the elderly tackle tough twilight-year and end-of-life issues
STAY AHEAD WITH FOREFRONT: BY TSMP